ASU Financial Aid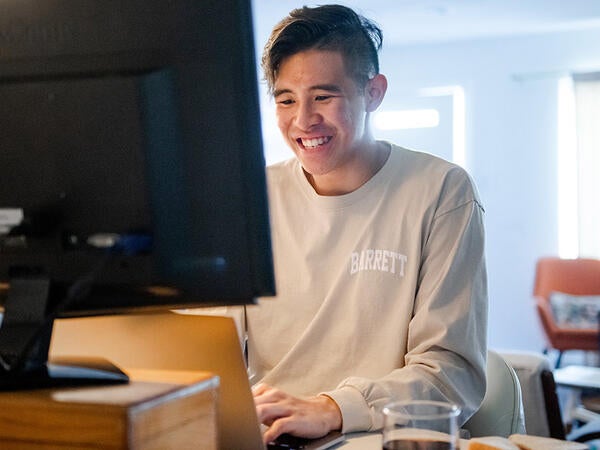 You have lots of ways to pay for college
It's no secret that college is a major investment. But studies show that it's an investment that pays dividends. And the good news is, you have access to many forms of financial aid to help pay for it — you're not alone in this. Learn about the various types of financial aid, how to get them and everything else you need to know to get help paying for college.
Watch video: What type of aid is being offered?
Watch video: Three things to know before classes start.
How do I get financial aid at ASU?
Fill out the Free Application for Federal Student Aid

You'll need your driver's license, bank statements, parent information and more. Normally, the FAFSA becomes available each year on Oct. 1; however, due to updates to the FAFSA, the 2024–2025 FAFSA is expected to be available in December 2023 (and not in October). For students starting in Spring or Summer 2024, the 2023–2024 FAFSA is open.
ASU's Federal School Code is 001081. Complete the FAFSA form here.

CSS Profile: CSS Profile is an online application used by colleges to award nonfederal institutional aid. The tool helps us determine eligibility and understand your specific financial situation. CSS Profile is available to qualifying domestic noncitizens who are unable to complete the FAFSA. ASU's CSS Code is 4007.

 

Please note: If you are eligible to submit the FAFSA, do not submit a CSS Profile application.

 

Review your Student Aid Report (SAR)

This will be emailed to you from the Department of Education 3-4 days after your FAFSA has been processed.

Look out for additional verification documents we need to process your FAFSA in My ASU

Return the documents quickly so that we can continue to process your file without delays.

Financial Aid and Scholarship Services will send you your Financial Aid Offer letter

Review your offer through the finances tab in My ASU. About five days before classes start, financial aid disbursement begins. Your scholarship and grant money will automatically be applied. You will need to accept loan offers before those funds are available. If you have any financial aid funds left over after paying your tuition and other charges, you'll receive a refund. The quickest way to get your refund is to enroll in direct deposit.

Apply for Scholarships

After you submit the FAFSA, you can explore scholarships using the scholarship search tool. Scholarships are gift aid — money for college that you don't have to repay. And there are tons of scholarships out there for all kinds of students based on region, interests, majors, goals and lots more. Apply for any and all that you qualify for no matter how small they may seem. They add up quickly.

Enroll In direct deposit

If you have any financial aid funds left over after paying your tuition and other charges, you'll receive a refund. The quickest (and safest) way to get your refund is to enroll in direct deposit.

Maintain eligibility

You'll need to maintain a certain GPA and complete relevant coursework in a certain timeframe. If you are a scholarship recipient, you'll need to meet renewal criteria.

File a FAFSA every year

You'll need to submit a new FAFSA every year you're in college to continue receiving federal financial aid.
---
Frequently asked questions
Most ASU students qualify for some form of financial aid. To be eligible for most federal, state and ASU funding, you must:
Meet eligibility requirements set by the U.S. Department of Education.
File a FAFSA for the current academic year.
Be admitted as a degree-seeking student to a qualified undergraduate, post-baccalaureate, graduate or eligible certificate program. (For information about your particular certificate program, contact Financial Aid and Scholarship Services). Some types of aid are restricted to certain degree levels and/or programs.
Not be in default on any prior student loan.
Not owe a repayment on any Title IV financial aid.
Be making Satisfactory Academic Progress.
Submit all requested documents and those documents must not be found to limit your eligibility.
Enroll in ASU classes such that it allows for disbursement of your offered financial aid (see ASU's census policy).
The amount of financial aid you're eligible to receive depends on lots of variables. Try ASU's Net Price Calculator to get an idea of how much financial aid you might receive and what your total costs could look like.
What kind of aid can I get to pay for college?
Important financial aid, scholarship and disbursement dates
Scholarship portal opens 
ASU's Scholarship Portal opens and scholarship opportunities are available for the 2024–2025 academic year. Note that scholarship deadlines vary so start exploring and applying early.
FAFSA opens
The FAFSA opens for the 2024–2025 academic year. The earlier you submit, the more financial aid you're likely to get. Get started on yours as soon as possible.
FAFSA priority date 
Submit your FAFSA before ASU's priority filing date of March 1 to maximize the amount of aid you receive. Eligible students who apply by this date have a greater chance of receiving need-based aid.
Note:  10 days before the start of each semester – Financial aid funds begin to disburse and you can start paying your charges. Watch video: How does my financial aid pay for my charges?
Incoming on-campus students
Incoming ASU Online students
Call us at 
1-855-278-5080
or visit the My ASU Help tab to email a specific question.
Current students
Call us
1-855-278-5080
Email us
Visit the My ASU Help tab to email a specific question.
Chat with us